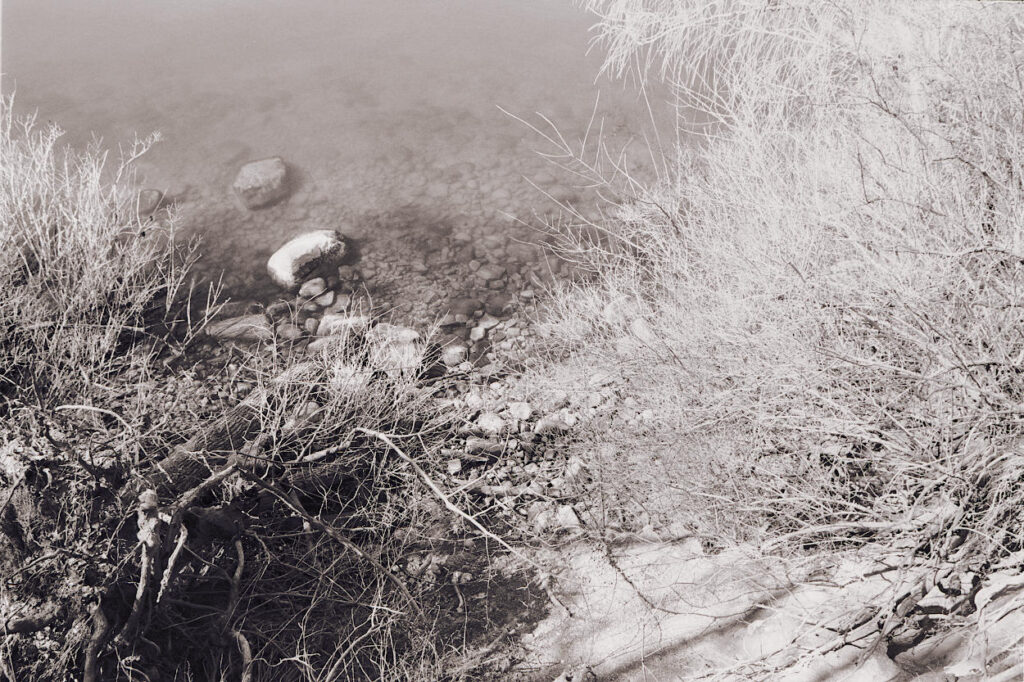 A surreal path to the shoreline of Picnic Point in Madison, WI. I found this on my first visit to the area – a 2017 outing which, like many during the time, I forced myself to take. I may have normally enjoyed my time, but the loss of a close friend and struggles with breaking into a new career path weighed heavily on my mind. I wanted to be alone in nature and find the peace that constant isolation and agonizing freelancing stole from me. Little did I know that Picnic Point is one of the more popular natural areas in Madison.
I arrived to a sea of people, but took to the main path anyway, fuming with disappointment at my own ignorance. People filled the path, and though I tried to concentrate on exploration and discovering interesting subjects, I could only think of getting away, keeping my distance, or keeping out of sight. Not easy to do with all my gear in tow. A woman around my age playfully said "a photographer – a man after my heart," as I passed her, and I just smiled and made some lame acknowledgement. I didn't feel that I could trust, I didn't feel safe opening up, I didn't feel that I was worthy of meaningful connection. I was already wounded and broken, and her friendly overture just made me think of things inevitably falling to pieces. I reached the end of the peninsula feeling no different about everyone else, all the happy couples or groups, all the people who had someone else to turn to, share with, delight in, and see anew.
My inanimate gear didn't seem so precious in comparison. Pursuing creative expression, the ideal I had long used to maintain my sense of purpose, lost its facade of comfort. I gave a token look around the peninsula and quickly exited down a side path.
I found this scene away from that side path. I don't remember what drew me to it, but looking at it now, I see the tension that I felt during that time. A barren origination devoid of belonging, the arduous struggle forward into a haze of nothingness, and – scattered throughout – the crumbled remnants of what was once whole. I was looking at my reflection: a reflection I failed to understand until now, almost 5 years later to the day.
There is no positive or uplifting conclusion to the backstory of this photo. Perhaps acknowledgment and insight is positive in itself, but the rest is just the admission to where I was as a person at the time.
Minolta XD 11
Minolta MD W.Rokkor-X 28mm f/2.8
Kodak TMAX – ISO 100