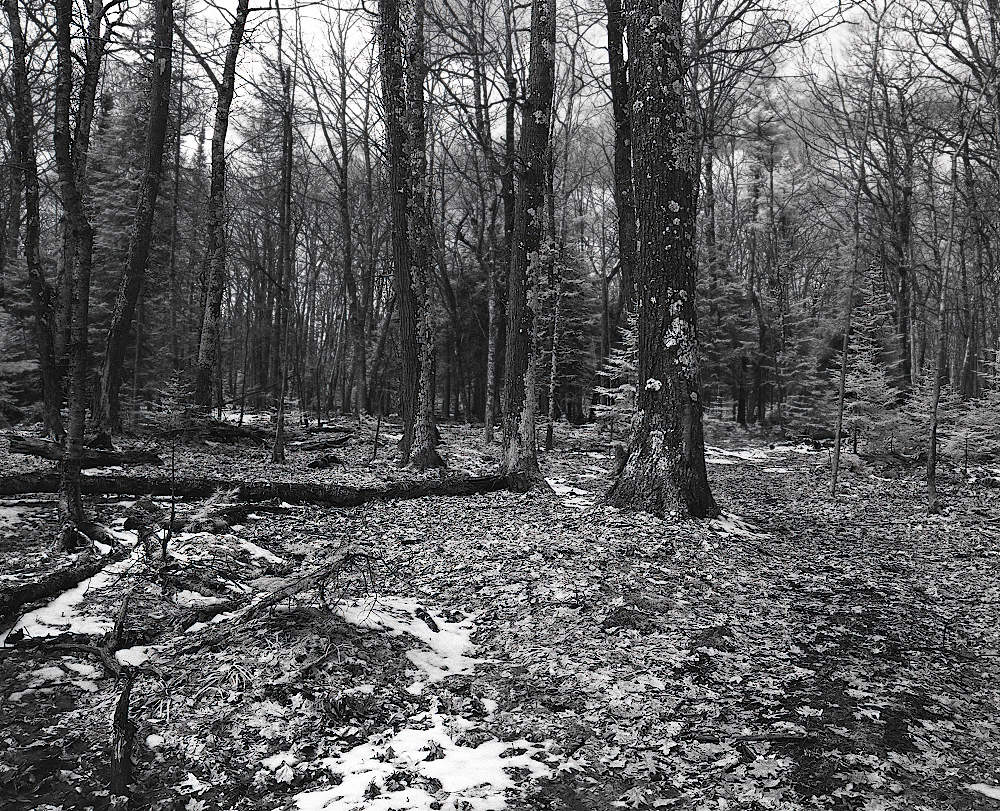 Taken near the end of winter in Big Bay State Park, of Madeline Island, WI, USA. Except for the very small number of fishermen and regulars, all of this touristy island was nearly abandoned for the season, which made this park seem all the more isolated and untamed.
For all the hours spent here, I didn't come across anyone else on the trails or in the parking lot. Not that it was hard to understand why – the frigid air was enough to test one's resolve, and a continuous gale off the lake made all but the heart of the woods utterly freezing. Despite the harsh cold and lack of protection against it, the profound solitude and sobering grasp of how dangerous it was to travel within, there was no greater thrill than to wander nature that simply was. Boughs creaked overhead, snow trickled into puddles along the trails, and a reverent quiet and tranquility seemed to pervade all.
How different it was to envision this shot, so unlike my works to highlight the importance of preservation (i.e. Safe Haven, Acceptability and Tolerance, and Garbage Along the Freeway) or to denounce needless destruction (Homeless and Shroud of The Revered Widow). How wonderful it felt to be in nature that, more than any other park or preserve I've been to, didn't need my help, input, or presence. I find all natural spaces splendid and majestic, but such a feeling of true wilderness (even from a state park) spoke nothing short of the divine.

Mamiya RB 67 Pro-S
Mamiya 50mm f/4.5 C
Rollei Infrared – ISO 400 – 6×7