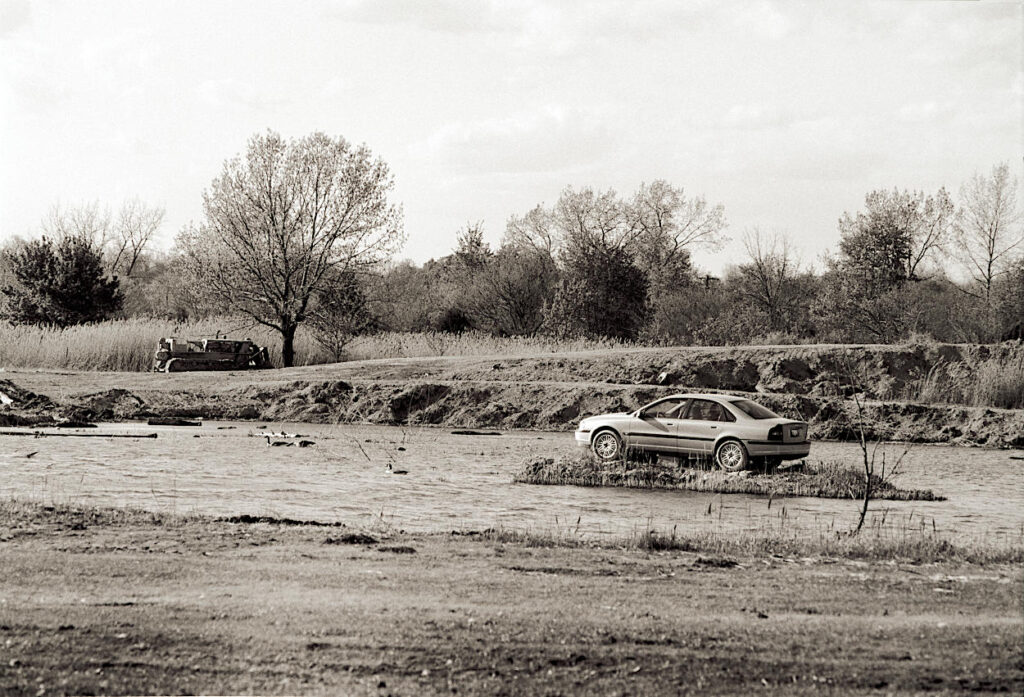 A car stranded in the middle of a man-made pond, found in Ottawa, IL. This car was left on the minuscule island as a marketing stunt for a local mechanic at least two decades ago (at the time of writing), and has been there ever since.
There was never a clear reason why the car was placed there, and the many years after haven't provided clarity. At this point, the car is little more than a local oddity, a curious landmark for others to orient themselves while heading somewhere else. Unfortunately, there are more parallels between the car and Ottawa than I like to admit. Full of dilapidated homes and ailing local businesses, besieged by big box stores that are inevitably rendered vacant, and desperately trying to reinvent itself as a tourist town to lure Starved Rock State Park visitors, Ottawa and the nearby towns of LaSalle County are often driven by, but are rarely where people without family ties are drawn to.
I often find myself drawn to rural subjects like this, but I don't view them with nostalgia. While the larger area tries to sweep its character out of sight to not offend dismissive and disinterested tourists, an unexpected display like this sits out-of-reach for years of travelers to try and make sense of, and I view that with a gnawing grief. Grief for the towns that could inspire pride if they invested in their communities, and for the people who – already struggling to find a dignified livelihood or even general opportunity – are daily insulted by the hollowing of their homes, locales, and identities. The hollowing which eventually becomes normal, and the community which inevitably slides further into decline, obscurity, and desperation.
I long for Ottawa and towns like it to flourish through improved public education, strengthened communal programs and assistance, and historical revitalization. I hope for this, but also fear that it will continue begging after tourists until its presence is too unpalatable to bear. What then of this car, already absent of sense and meaning? What of the rich and unpredictable character it embodies?
Minolta XG7
Minolta MD 75-200mm f/4.5
Fuji Neopan Acros – ISO 100